For a full account of the Battle of Crooked River, see http://www.farwesthistory.com/criv.htm Ron Romig and I worked hard to get this all together. We hope you enjoy it.
My site will continue to have side bars to the main farwesthistory site.
The battle of Crooked River occurred in the early morning of October 25, 1838. The map below will help you understand the area near the battle site and what the geography looks like. For a professionally drawn version of this map by John Hamer, a very talented artist, see http://www.farwesthistory.com/crbmfull.gif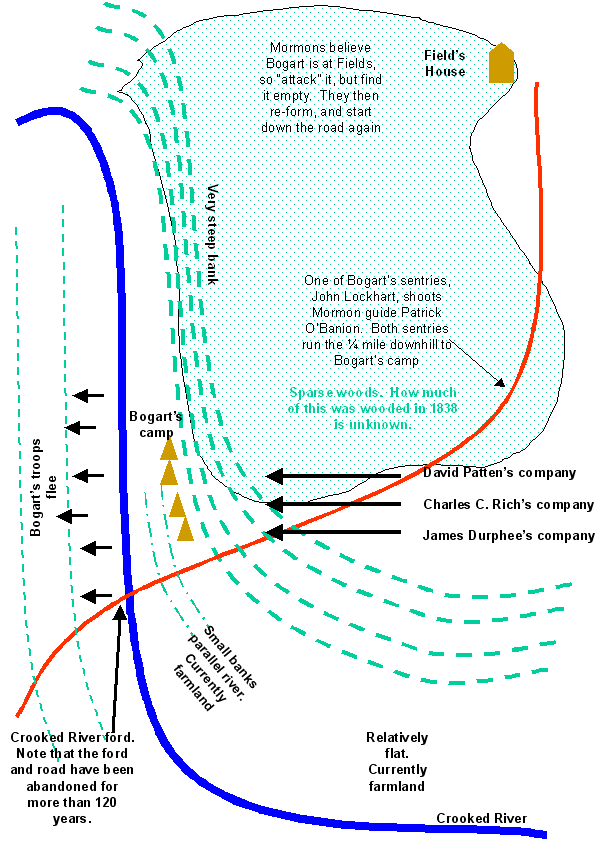 John Hamer's professionally drawn map: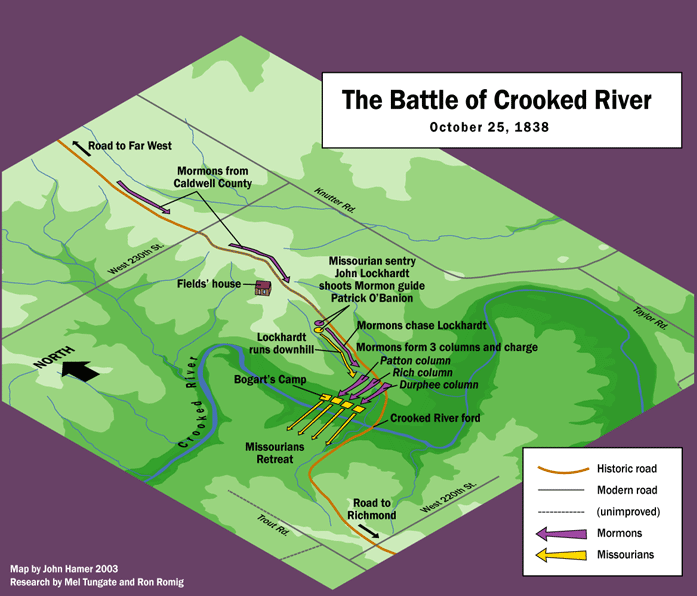 The Crooked River battle site is 14 miles north, and six miles west, of Richmond Missouri. It is 12 miles due south of Far West Missouri.
Location of Buncombe:
Samuel Bogart's Ray county troops, under official orders from the leader of the state troops, were protecting Buncombe, and trying to make sure that Richmond was out of danger. There are many attestations to this. John Corrill says that "Captain Bogard had collected a company and got permission to guard Buncum, and was there encamped for that purpose when they fell on him."( History of the Mormons (1839), p.39 ). After the battle, Sashiel Woods and Joseph Dickson wrote the following to Governor Boggs: "Sir:óWe were informed last night, by an express from Ray County, that Captain Bogart and all his company, amounting to between fifty and sixty men were massacred by the Mormons at Buncombe, twelve miles north of Richmond, except three. " Woods and Dickson were wrong about the number of dead - only one of Bogart's troops, Moses Rowland, died. The distance reference, also found elsewhere, is interesting. Twelve miles from Richmond is right at the bottom of the six mile wide strip that currently lies on the northern edge of Ray County. It should also be noted that in the affidavit that Thomas B. Marsh filed with the state of Missouri at Richmond, he said "On Saturday last, I am informed by the Mormons, they had a meeting at Far West at which they appointed a company of twelve, by the name of the destruction company, for the purpose of burning & destroying, and that if the people of Buncombe came to do mischief upon the people of Caldwell & committed depredations on the Mormons, they were to burn Buncombe & if the people of Clay & Ray made any movement against them, this destroying company was to burn Liberty & Richmond. This burning was to be done secretly by going as incendiaries." ( State of Missouri Mormon War Letters. Electronic copy available at http://homepages.rootsweb.com/~livcomo/letters/mormon.html and at http://www.tungate.com/MorWar.htm )
Bogart wrote a letter to Gen. Atchison on the 23rd of October, 1838: "Dear Sir, The Mormons have burnt Gallatin & Millport & have ravaged Daviess County, driven out the citizens, burnt the Post Office, taken all kinds of property from the citizens, have gone into Livingston County & taken the cannon from the citizens there. They have threatened to burn Buncombe & Elkhorn, & have been seen near & on the line between Ray & Caldwell, from consequence of which I have ordered out my company to prevent, if possible, any outrage on the County of Ray, & to range the line between Caldwell & Ray, & await your order & further assistance. I will camp at Fields, 12 miles north of this tonight. I learn that the people of Ray are going to take the law into their own hands & put an end to the Mormon war. In haste your obdt servt James Bogart " ( State of Missouri Mormon War Letters. Electronic copy available at http://homepages.rootsweb.com/~livcomo/letters/mormon.html and at http://www.tungate.com/MorWar.htm )
The Missourians had good reason to suspect that Buncombe was in danger. At Richmond, Missouri on Wednesday October 24th 1838, C. R. Morehead, Wm Thornton and Jacob Gudgel filed an affidavit that said "The undersigned having on Monday morning last learned that the Mormons had burned Millport in Daviess County in addition to the burning of Stollings store in Gallatin in said county; and of their having threatened to burn the store in Buncombe Settlement in this county; and feeling an anxiety to know the truth in relation to said reports left this place, Richmond, on that Monday morning & proceeded to Millport." The men indeed did find the stores and houses at Millport and Gallatin burned.
William Seely says "This affiant further Says that on or about day of 24th October he went to Bunkham's Strip a distance of about twelve miles from his Stopping place in Caldwell County [ Far West ], to See one Mr. Pinkham on business" ( Mormon Redress Petitions, p 532 ). Pinkham owned land to the east of what is now Knutter Road, and on Taylor Road, two miles east southeast of the current town of Elmira, Missouri.
William Seely was captured by Bogart at Pinkham's house along with Addison Green and Nathan Pinkham, Jr. Addison Green testified at the November 1838 evidentiary hearing that he was a member of Amasa Lyman's spy company, sometimes called the Destruction Company, and one might logically conclude that Natham Pinkham was also, since Nathan Pinkham Sr's seems to have been a regular gathering place for these spies. Amasa Lyman writes "A company of spies were raised, composed of ten men, and I was appointed to take charge of them. We repaired to Crooked River, and quartered with Brother Pinkham." ( Amasa Lyman's History, Latter-day Saints' Millennial Star 27 (1865): 502-504, 519-21 ).
Buncombe was being used as a place for the Missourians to plan actions. Besides for the inference in what Corrill said above ( "if the people of Buncombe came to do mischief upon the people of Caldwell" ), this can be seen from a later reminisce from Martha Thomas. She writes "Our house was the last house on the Richmond road, leading from Far West to Richmond. About two miles from our house there was a little place called Buncom, where the mob gathered to counsel which way to go." ( Martha Thomas autobiography, in Daniel Thomas Family History (1927), p.14 - 19 Far West, Missouri, 1838 ). While we cannot point to the exact location of her house, it is known to be in the southern part of the Allred settlement, two miles north of the current Caldwell - Ray County border. See http://www.farwesthistory.com/allred.htm for details. The evidence is strong that Martha Thomas is talking about Buncombe's Strip ( which indeed started almost exactly two miles from her house ) and not the city of Buncombe which was 8 miles from her house.
On page 15 of Steve LeSueur's book, he shows the location of Buncombe. He found the location from an 1839 map at the Division of Maps of the Library of Congress. The map is called: "Map of Illinois & Missouri Exhibiting the Post Offices, Post Roads, Canals, Rail Roads, ec." By David H. Burr, 1839. The map has Buncombe located in the six-mile strip of land in Township 54, Range 28, now the Knoxville township. The map shows Buncombe as located in the southern part of the township, near the Ray border. According to Steve, "most interesting, the map shows Buncombe as located directly on the road (the main road and/or postal road, I presume) from Far West to Richmond. This road probably led directly to the Crooked River Battle site. The map also lists the distance along the road from Far West to Buncombe as 18 miles. The map shows the remaining distance to Richmond as 14 miles. ... ." ( Private correspondence with Steve LeSueur. November 10, 2003 ). Buncombe was renamed Knoxville on October 26, 1838, just one day after the Crooked River battle.
The evidence is clear that there was a town called Buncombe about six miles from the Caldwell County / Ray County border. It is also clear that the six mile strip of land that Ray County administered ( now the northern six miles of Ray County ) was called Buncombe's Strip.